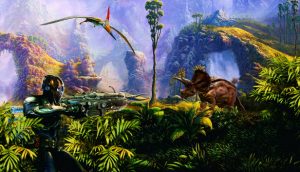 2016 is almost over but we have many new games to look up to in 2017. With that in mind, here are some of the coolest games you can check out in 2017.
Elex
The new game from Piranha Bytes manages to seamlessly combine medieval with futuristic times. This time you can even have a jetpack and pulse based or even laser weapons which is really neat!
For Honor
If you like to battle enemies in medieval times this game is for you. Ubisoft has a lot going on with this new game and you are bound to like its uniqueness, great gameplay and strategy!
The Legend of Zelda: Breath of the Wild
This new Zelda game is set to bring in some new unique mechanics and the fact that a new Zelda game just comes out once every few years, you are bound to like everything that the game has to offer! Plus, it will be playable on the new NX console which is nice.
God of War
God of War is indeed coming back, but this time there are new mechanics and plenty of new additions as well. It really is one of the major games for 2017, hopefully it will be able to live up to the hype.
Resident Evil 7: Biohazard
The addition of VR and plenty of new mechanics such as new environments are bound to bring in some cool gaming moments for you. It's one of the best horror games for next year so if you like the genre you should be pumped!
Mass Effect: Andromeda
It has been a while without a Mass Effect game and even if we have new heroes this new entry is set to be one of the best ones yet. New planets, new options and new heroes are definitely going to expand the universe even more.
Horizon Zero Dawn
The combination of biological and mechanical creatures makes Horizon Zero Dawn one of the most innovative games. Despite being a PS4 exclusive, it does seem to offer quite a lot of value!
Days Gone
Since you can never have too many zombie games, Days Gone is a PS4 exclusive that will bring you some really good gaming moments. No release date yet but you will indeed have a lot of fun with this one just because it's really exciting and filled with great physics.
Injustice 2
Injustice was a hit game when it came out a few years ago so you are definitely going to enjoy this new entry. New powers and new heroes are coming into the mix so you should be excited about that.
Sea of Thieves
Pirate based adventures are always fun and nothing can be more immersive than being able to explore the seas and enjoy some good battles. It really is an exciting and refined game with a lot to offer!
Tom Clancy's Ghost Recon Wildlands
Tom Clancy's Ghost Recon Wildlands makes the Ghost Recon experience open world all while maintaining the team based military gameplay. It's a great new addition to the series for sure.
There are tons of great games on the horizon and hopefully they will be able to make our 2017 gaming days amazing. One thing is certain, all of these titles had impressive presentations and you should consider checking them out!